Blog
Posted by Abbey Dasch on
After the last, unpredictable school year, we are ready to step back into the classroom and out from behind the computer screen! The school means more than just kids hopping back on the school bus – it means preparing for the year right, changes in schedule, newfound projects and a heavier focus to really take advantage of family time during the weekends. With all that is going on, and the days getting shorter, you need a place where you can escape to while still being able to find it all. Just Picked is that place. Let's go back to school...
Posted by Abbey Dasch on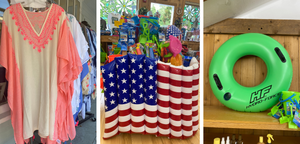 I know what you're thinking, we live in New England – we don't need summer apparel, l toys, etc. as we move into the wintery season – give me a chance to change your mind. Let's talk about the 4 big reasons you should set out to shop and stock up on your favorite summer items right now!
Posted by Abbey Dasch on
It's that time of year again - the garden is overflowing with your home-grown zucchinis. Just Picked has a solution for you.