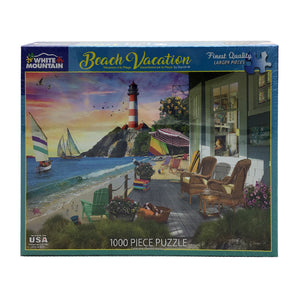 Beach Vacation 1000 Piece Puzzle
Beach Vacation 1000 Piece Puzzle
Life is good at the beach, as it says on the sign outside this inviting shingled cottage. Pull up a comfy wicker chair on the porch to watch the sunset over sailboats and shorebirds, and maybe have a little snooze like the pup in his own wicker bed. If it turns a bit chilly later, a blazing fire beckons us to come inside.
Original Art by David M
Finished size: 24" x 30"
---
We Also Recommend
---